Youth Choir
2013
National All-American Miss Scholarship Pageant, Thanksgiving Week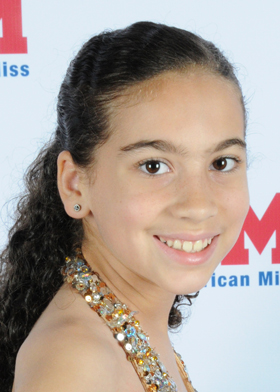 The National American Miss?(NAM)?Alabama Scholarship Pageant in June was a fantastic, uplifting experience for Mary Olivette. This was her first pageant and she won 5 trophies including?Best Resume, and Spokesmodel?- 1st Runner-up in the Pre-Teen division of 87 young ladies. The Spokesmodel win earned her the opportunity to compete in the Pre-Teen National All-American Miss Scholarship Pageant Thanksgiving week in Anaheim, CA.?
NAM Pageants are dedicated to celebrating America's greatness and encouraging it's future leaders. The pageant program is based on inner beauty, as well as poise, presentation, and offers an "All American Spirit". Contestants are scored in Interview, Personal Introduction, Formal Wear, and Community Involvement.
The St. Ignatius School National Elementary Honor Society 6th Grader has led by example in serving her Church, School, and the Community. She's been singing in the St. Ignatius?Choir since the 3rd Grade and in?Prince of Peace?Youth Choir?since she was 6,?and is credited with inspiring other children to join the Choir.
In 2012, Mary Olivette?raised over $1,700 outside of school in 3 months for?St. Jude Children's Research Hospital, the highest individual total raised in the area.??
Mary Olivette chose?"community service" for the Spokesmodel competition topic. Her speech,?"A Church without a School", was to support re-opening St. Peter Claver School in her community.
Now, to help keep another community school,?Most Pure Heart of Mary?(MPHM), open, she'll donate 20% of her Pageant fundraising up to $5,000 and everything over $5,000 to MPHM. She's accepting donations,?selling Krispy Kreme doughnut coupons ($5)?and the?MPHM?book, "From the BACK of the PEWS to the HEAD of the CLASS"?($14.95?all proceeds?to MPHM). NAM will allow her to take her cause of schools in the community nationwide. To date, she's raised over $1,000 for MPHM in direct donations and book sales.
She needs Sponsors to get to Anaheim.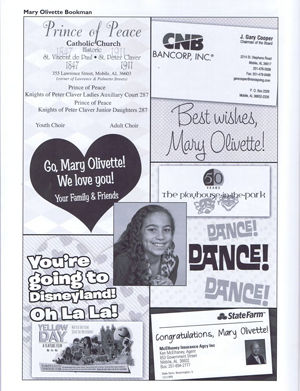 NAM Information:
NAM?awards 1.5 Million dollars in cash, scholarships, and prizes to recognize and assist the development of young women nationwide.?There is no swimsuit competition and no make-up on age 12 and under participants.
The competition entry fee is $795. The 5 optional contests?(Talent, Spokesmodel,?Photogenic, Modeling, Acting, etc.)?are?$175 each?that would give Mary Olivette the opportunity to win?up to?$1,000/contest?in cash and scholarships.
To Sponsor Mary Olivette:
Mary Olivette's goal is $5,000! After she reaches her goal, she will continue to raise money for Most Pure Heart of Mary.
Use the secure form http://omary.myevent.com to donate by credit card and check her progress. To donate by check or cash: email maryolivette@gmail.com

Any donation will be greatly appreciated.?Thank you so much for your support!!!